Leading the way to a better world
Walk through the doors of the School of Public & Environmental Affairs (SPEA) and you'll feel it. There's an energy here you won't find anywhere else. A certainty that what we're doing has the power to create change. We're committed to working together to make a better world.
A degree from SPEA at IU Northwest can prepare you for a career in the public, private, and nonprofit sectors. The degrees offered by SPEA can aid your career goals and provide you with the experiences, knowledge, and skills to not only be successful but to change the world.
We offer four undergraduate degrees in Criminal Justice, Forensic Science, Health Services Management, and Public Affairs along with a Master of Public Affairs.
These degrees are linked to numerous careers that all make a difference. In SPEA, we don't want you to just land a job, we want you to find a career you're passionate about and will remain invested in throughout your life.
School highlights
Diverse learning experience
Classroom instruction with small classes available
Internship opportunities
Networking possibilities while earning a degree and after graduation
Expert faculty
Faculty are experts in their field
Serve as valuable resources to students
Can assist in career development and job placement
Flexible learning environment
Earn a degree at your own pace
Options for students who work full- or part-time
What can I do with a SPEA degree?
The School of Public and Environmental Affairs educates students in the public, private, and non-profit sectors. A SPEA degree opens the door to numerous career possibilities, such as:
Project management specialist
Medical and health services manager
Forensic science technician
Probation officer
Social and community service managers
ATF agent
Health policy analyst
Community activist
Insurance agent
Police and sheriff officer
And much, much more
NASPAA Accreditation
NASPAA (Network of Schools of Public Policy, Affairs, and Administration) is the global standard in public service and is a membership of graduate programs in the areas of public policy, public affairs, public administration, as well as public and non-profit management.  SPEA at IUN successfully received NASPAA reaccreditation through 2027.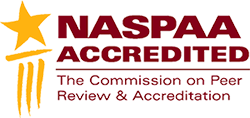 SPEA contact information
Office Hours
Monday through Friday: 8 a.m. to 5 p.m.
Phone Number
(219) 980-6695
Fax Number
(219) 980-6737
Mailing Address
SPEA
IU Northwest
Dunes Medical / Professional Building, Room 2101
3400 Broadway 
Gary, Indiana 46408
Email Addresses
Undergraduate Programs: Carlie Petrus
Graduate Programs: Maya Theus
Departmental Secretary: Wynette (Archer) Justin