Business Alliance Luncheon Event
Event Postponed Until a Later Date
"Uncovering gifts and talents is my mission, and helping people to use them to create distinction is my purpose."
–Dwayne Walker, Speaker, Executive, and Entrepreneur
---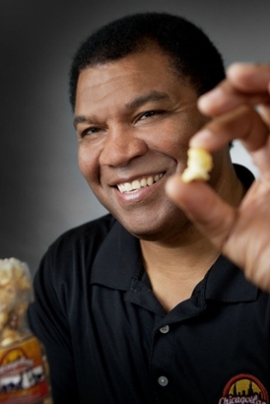 Dwayne Walker
Speaker, Executive, and Entrepreneur
Dwayne Walker has more than 25 years of leadership experience expanding sales and guiding top-tier companies, as well as emerging mid-level entrepreneurial businesses. An accomplished corporate strategist and marketer, his vision and expertise in business performance have driven notable growth in the retail distribution, information technology, and transportation sectors. Offering an uncommon blend of corporate operational and creative entrepreneurial strengths, Dwayne has achieved exciting results in product launches, distribution channels, revenues, and profits. His strategic approach has been utilized in several corporate operations and he has held leadership positions in such companies as Lexmark International, Navistar, and Illinois Tool Works as part of the senior executive team. In the fall of 2014, after 13 months of planning, preparation, and construction, Dwayne and his wife Mogda launched ChicagoLand Popcorn in Merrillville, a unique family-owned business featuring more than 250 recipes of delicious gourmet popcorn. Things have been "popping" ever since. A second location was recently opened in St. John and expansion plans of the Merrillville production and retail operations are currently being evaluated. Dwayne entered the public speaking arena early in his career and he is increasingly in demand. With his high-energy, though-provoking delivery, Dwayne delivers an inspirational message about unlocking and leveraging hidden or often overlooked distinctions to drive business performance. He encourages individuals to change perspectives, uncover or rediscover abilities, and inspires action. Dwayne's high-energy presentations move organizations and people to a place of contagious clarity and enthusiasm.
Platinum Sponsor
 $1,800
Total investment with table - $2,000
Premium table placement
Gold Sponsor
$800
Total investment with table - $1,000
Preferred table placement
Silver Sponsor
$300
Total investment with table - $500
Standard table placement
---
For more information, please contact Barbara Mahns at bmahns@iu.edu at the IU Northwest School of Business and Economics.
---
Only sponsorship opportunities are considered charitable gifts. Table purchase value of $200 is not tax deductible. All proceeds benefit the Indiana University Northwest School of Business and Economics.
Account Code I380010497               Source Code IU20BAEINWOT11NATF23J
Individual Ticket - $45 
$25 of each individual ticket price is tax deductible.
The Indiana University Foundation solicits tax-deductible private contributions for the benefit of Indiana University and is registered to solicit charitable contributions in all states requiring registration. For our full disclosure statement, see go.iu.edu/89n.